If you're on the lookout for a new hairstyle, then you should consider the wet hair look for that "just got out of the shower" freshness. It's a versatile look that can be incorporated into any type of hair. Whether you have short back and sides or long curly locks, you can achieve this look no matter what.
Learning how to get the wet hair look for guys is one thing; what products to use and how to keep your style in place all day is quite another. In this article, we look at the different products that can achieve this look, as well as instructions on how to use them to create that wet look for guys.
Choose Your Product
You can achieve a wet look with a variety of different products. You may have some of these products already, or you may want to try something new.
Styling Mousse
A styling mousse is a great option for thinner hair as it can add much volume to your style. It's also very easy to use. Styling mousse generally has less holding power than gels and waxes, but if you want a more natural, flowing, wet look, then it could be perfect for you.
Styling Gel
Styling gel is a water-based product and probably the best-known styling product on the market. Being water-based, it's perfect for achieving the wet look, but it will leave your hair noticeably product-hardened.
It is available in different strength holds. If you have thin hair, then you should go for a lighter hold, while people with thick hair should opt for a stronger hold.
Pomade
The great thing about pomade is that it won't make your hair too stiff. Pomades are really great for slicking back thick hair but can be used on all hair types.
Most pomades are oil-based, but you can also find water-based products that are easier to wash out and better for creating volume. The key to using this product is not to use too much as it can make your hair look greasy if overused.
Wax
Wax is great for short hair. It doesn't have the same shine that pomade does so it's great for that "just got out of bed" look. It's softer than pomade but also more difficult to wash out.
You don't need to use a lot, so hair wax products will generally last you a lot longer than products like mousse or styling gel.
How to Get the Wet Hair Look for Guys
Now you've picked the right product for you, you need to know what to do with it. Some products are best applied on wet hair, and some, you shouldn't let near your wet hair, but instead wait for it to be completely dry.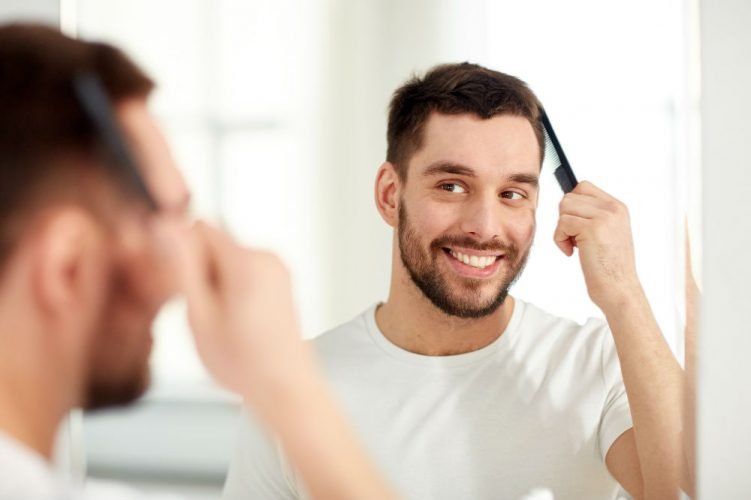 Styling Mousse and Gel
Wash and condition your hair
Towel dry your hair to remove excess water but don't let it get too dry
Work the mousse or gel into your hair using your fingers, making sure that it is evenly covered all over. It's best to start with a small amount at first, and then build it up
Use a comb (or your fingers) to manipulate your hair into the style that you want. A comb will be better for a smooth, slicked back, finish, while your fingers will achieve a more natural look
Pomades and Waxes
Wash and condition your hair
Dry your hair. Using a hair dryer will speed up the drying process, and it will also help to create volume if needed. It's important that these products are always used on completely dry hair
Using three fingers, take a small amount of product on the tips of your fingers and rub them into the fingers on your other hand.
When it comes to pomades and waxes, less is definitely more, and unlike styling mousse and gel, it is really easy to apply more throughout the day, as and when needed
Use your fingertips as a comb and run them through your hair to apply the product through your hair
Take a comb to distribute the product more evenly and work it into the roots. Create your hairstyle using the comb to creating partings or slick it back, then use your fingers again to finalize the shape
The final ingredient you will need is a can of hairspray. Spray the hairspray all over your hair evenly to ensure that your style stays in place all day long.
Wet Look Wisdom
The key to achieving the wet look hairstyle is to choose a product that you're comfortable working with and that compliments your hair. If you're still unsure, ask for advice next time you go to your hairdresser's.
Avoid bad hair days by not using too much product. Always start with a small amount and work your way up to more, as you can always add more, but you won't always have time to wash your hair again to start over.